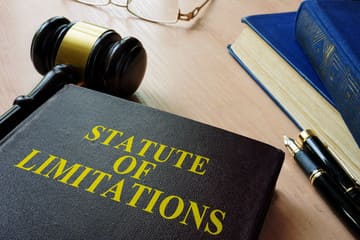 What is the Statute of Limitations in Ohio for Wrongful Death?
Losing a loved one because of someone else's reckless or negligent behaviors is one of the hardest things a person has to endure. Knowing how to handle these situations legally can be even harder! With more knowledge about wrongful death in Ohio, you can have a better understanding of how these cases work.
Like many cases in Ohio, there is a statute of limitations on wrongful death cases, which has been clearly defined in Ohio's law. These statutes help dictate when people can bring civil charges against another party in response to wrongful death. If you think your loved one has died wrongfully, it's important to understand your legal options as well as possible so that you can make good legal decisions going forward and communicate more effectively with your legal team.
What is Considered a Wrongful Death?
Before going into the details of the wrongful death statute of limitations in Ohio, it's vital that you understand what a wrongful death is in the first place. In Ohio, wrongful death occurs when someone's negligence or failure to reach their duty of care results in the death of another person. Wrongful death is not unlike other personal injury cases, but because the person who has died cannot defend themselves, loved ones stand in for the deceased.
Wrongful death is a civil and not criminal proceeding, meaning the goal of these cases is to get financial compensation for families rather than trying to bring criminal charges. Those responsible for wrongful deaths may face both civil and criminal penalties, but the exact nature of these penalties depends on the specific details of the case.
Some examples of wrongful death can include:
Medical malpractice
Death caused by negligent behaviors, like a car accident
Intentional torts, such as battery or assault, including murder and manslaughter
Because these cases are civil, a wrongful death suit only deals with financial damages, meaning that loved ones can only get financial compensation from the defendant.
The bar for a civil case is usually lower than that of a criminal case because while in criminal cases, the guilt of a defendant must be proved beyond a reasonable doubt, the standard is lower in civil cases.
What is a Statute of Limitations?
A statute of limitations defines when a person can file a claim. Once the statute has passed, a person can no longer bring a case against another party. This may be frustrating for many people, but as time wears on, evidence can become less reliable. For example, a witness might not remember what happened many years later. Therefore, the statute is meant to preserve the dignity of cases. Unfortunately, it can cause problems for people who want to bring a case but don't have any time left.
What is the Statute of Limitations for Wrongful Death in Ohio?
In Ohio, the statute of limitations for wrongful death is two years. The clock starts from the date a loved one has died. While the statute allows up to two years to file a claim, it's always a good idea to begin legal proceedings as soon as you can. Evidence is freshest the sooner you begin, and the more time you have to build a strong case, the better. Therefore, if you believe you have a case, you should seek legal help today.
Are There Any Exceptions to the Statute?
There are very limited exceptions to the statute of limitations for wrongful death cases in Ohio. For example, if there was no way that you could have known that a case was a wrongful death at the time of the accident, the date you have to file a claim may be extended. To know if there is any chance of going forward with a case, you should contact a legal firm. Personal injury lawyers can look at your situation and determine if you have a chance at a successful case.
Who Can File a Wrongful Death Claim
Under Ohio law, not all people are eligible to file a wrongful death claim. While the damages of a wrongful death claim can be divided among loved ones impacted most by the death, one person is appointed or designated as the representative of the person who has died. It is this representative that must file the wrongful death claim.
Generally speaking, the people who will receive compensation in wrongful death cases are the immediate family of the deceased, such as the spouse, children, or sometimes parents of the deceased. Siblings, grandparents, and other relatives mostly do not get compensation, but in some cases, they may be able to show that they have endured losses that entitle them to legal damages.
For those who are not entitled to file a wrongful death claim, it can feel unfair and upsetting, especially if you were very close to the deceased. If you have any questions about whether you or someone close to you qualifies, a lawyer can give you a better idea of how the law will likely apply to your particular case.
Talk to a Columbus Wrongful Death Attorney
If you believe you have a wrongful death case, it's vital that you contact a personal injury lawyer with experience in wrongful death cases. A lawyer can help you know what legal options you have, and they can give you the best guidance you can get when you are making difficult decisions and trying to get the best outcome. With a free consultation, you can get a better idea of what to expect going forward and if you have a viable case based on Ohio laws.
Talk with an experienced Lawyer today
Fill out the form to get started with your case evaluation.