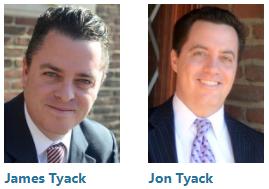 By: James P. Tyack & Jonathan T. Tyack
Originally published in Columbus Bar Association's July 7 2017 edition of Legal Connections
In the previous articles we discussed the legal perils of juvenile sexting and somepractical advice for parents to assist them in preventing their children from breaking the law. However, mistakes will be made, which tends to happen with all teenagers and children. We discussed how serious the consequences can be for a juvenile who makes the mistake of creating, publishing or disseminating illegal materials. So what happens when you get the call from local law enforcement?
The good news is that most prosecutors in Central Ohio treat these cases seriously and fairly. While there are no hard and fast rules to what law enforcement or a prosecutor's office may do with these types of cases, certain situations are clearly more serious than others.
For example, a boyfriend and girlfriend exchanging private messages is clearly a different situation than one where images are obtained surreptitiously or where there is some type of public posting of the images.
Some prosecutors will charge juveniles with felonies regardless and work out a formal diversion program. Others may avoid charges in exchange for certain conditions being met by the juvenile. Some examples of what they have been required to do in these formal and informal diversion programs or as a result of an adjudication include attending a victim impact panel, writing a paper on the issue, community service, giving up their phone and internet use for a period of time, education and counseling.
It is important for teenagers to appreciate the seriousness of their actions when it comes to using their smartphones or devices to create illegal materials, whether they disseminate them or not. Hopefully most juveniles will refrain from taking these actions. While not all children will make this decision, it is important for families to understand their rights and how an attorney can help them navigate the legal consequences of their actions.
The good news in many instances is that the authorities and prosecuting attorneys allow juveniles to learn from the mistake and take steps to avoid more serious problems in the future.
Whether it's understanding the legal consequences of this type of conduct, how best to avoid these situations for teens and parents or how to navigate the legal system once law enforcement is involved, a knowledgeable attorney can help. Find an attorney who can help with your case at directory.cbalaw.org.
---
Disclaimer: The information in this blog post ("post") is provided for general informational purposes only, and may not reflect the current law in your jurisdiction. No information contained in this post should be construed as legal advice from the Tyack Law Firm Co., L.P.A., or the individual author, nor is it intended to be a substitute for legal counsel or representation on any subject matter. No reader of this post should act or refrain from acting on the basis of any information included in, or accessible through, this post without seeking the appropriate legal or other professional advice on the particular facts and circumstances at issue from a lawyer licensed in the recipient's state, country, county, or other appropriate licensing jurisdiction.
Talk with an experienced Lawyer today
Fill out the form to get started with your case evaluation.